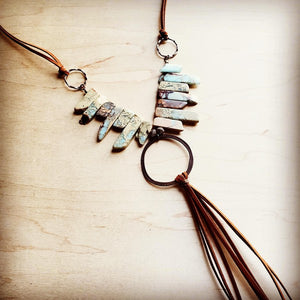 Aqua Terra Necklace w/ Copper Hoop and Fringe
This genuine Aqua Terra stone necklace is accented with a copper hoop and a suede fringe tassel.
The necklace adjusts from 24" up to 36" in length with the self tie closure. Suede fringe tassel is approximately eight inches in length.
Each piece is created by hand, so no two are identical. You need this in your collection!
*Rust & Rose online exclusive item - ships free!*
---
We Also Recommend