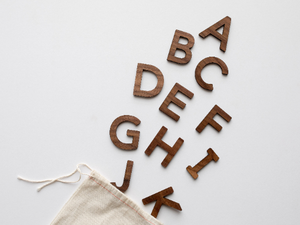 Wooden Uppercase Alphabet Set - Walnut
This heirloom-quality alphabet set for kids is made of solid walnut wood and intentionally designed in a modern, child-friendly font. Make hands-on learning a whole lot more beautiful and durable! Alphabet set features uppercase a-z, for a full 26-piece set that comes in a lovely cloth drawstring bag for safekeeping & storage.
Use our wood letters to:
• Identify individual letters & their sounds
• Put them in alphabetical order
• Trace, stamp in dough, & build simple words
Lowercase letters are 1.5-2.25" tall, all are 0.2" thick, and width varies by letter. Crafted by hand in Ohio from locally sourced wood. Sealed with food-grade mineral oil and safe for kids. Our line of modern learning resources are a lovely addition to a playroom or homeschool environment and are sure to be treasured for years. Each item is unique and made-to-order; wood tone & grain will vary from piece to piece.
Made in the USA.
---
We Also Recommend